Suara.com – Sebuah motor listrik yang tampil di ajang pameran Consumer Electronics Show (CES) 2022 mencuri perhatian.
Bagaimana tidak, desain dari motor ini terlihat cukup gahar dan berotot.
Dilansir dari Electrek, motor tersebut bernama HyperFighter Collosus Limited Edition.
Motor garapan dari Damon Motorcycles ini mencuri perhatian pengunjung yang datang pada event yang diselenggarakan di Las Vegas Convention Center pada 5 – 7 Januari 2022.
Baca Juga:
Siap Jegal Honda PCX Elektrik, Yamaha Hadirkan Motor Listrik Berteknologi Canggih
Tampilan motor ini terbilang berbeda dengan motor listrik yang sudah beredar di masyarakat.
Kesan gagah dan garang ini tersemat pada motor lisrik garapan Damon Motorcycles.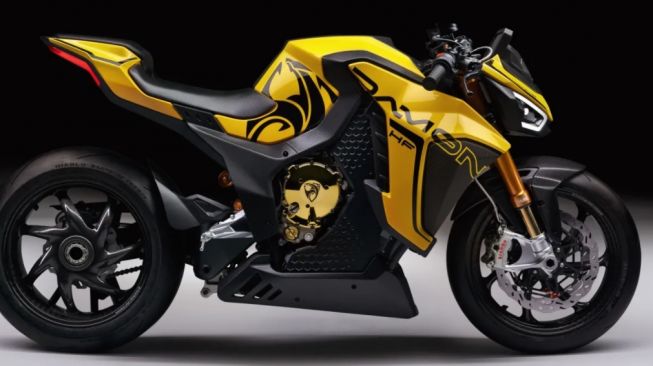 Motor ini dibekali teknologi HyperDrive yang menjadi powertrain multi-varian monokok pertama di dunia yang dibuat dengan 100 persen listrik.
"Motor HyperFighter Collous mengubah kategori streetfighter dengan model edisi terbatas yang bertenaga. HyperFighter adalah sepeda motor Demon yang dilucuti bukan untuk lemah hati, sehingga pengendara dapat melakukan hal terbaiknya," jelas Jay Giraud, Co-Founder and CEO Damon Motorcycle, dalam keterangan resminya.
Berdasarkan kekuatannya, menurut klaim pabrikan, model HyperFighter Collossus dibekali dengan baterai berkapasitas 20 kWh dengan fitur fast charging.
Baca Juga:
Best 5 Oto: Ridwan Kamil Kenalkan Sepeda Motor Listrik Konversi, Honda Prototipe Melantai
Dengan baterai tersebut, motor listrik ini mampu menghasilkan tenaga sebesar 200 tk dan memiliki mampu berakselerasi dari posisi diam hingga 100 kpj hanya dengan waktu 3 detik.
Selain fitur yang disebutkan di atas, Damon Motor HyperFighter Collossus memiliki fitur CoPilot, Traction Control, Shif, Mobil App, Front and Rearview 1080P Camera, Ride Modes, ABS Parking Brake, dan Wireless Connectivity and Data Over-the-air (OTA) Update.
Motor ini hanya diproduksi terbatas. Berdasarkan info dalam laman tersebut, motor ini hanya diproduksi sebanyak 100 unit saja.
Nah buat yang berminat memilikinya, siap-siap rebutan nih!